Visit Airfield Estate
With acres of green space, farm animals, beautiful plants and woodlands, Airfield offers you the perfect opportunity to explore and enjoy the great outdoors.
Level 3 Updates From Airfield Estate
Please note the following will be in place at Airfield Estate for the duration.
The estate and naturescape will remain open with current social distancing restrictions and one way customer flow in place.
Airfield House will close and The Grey Barn indoor play area will remain closed.
All Food & Beverage will be takeaway.
Inspiration Kitchen classes will move online.
Wedding numbers will be reduced to 25.
Outdoor learning and daily activities will continue but will be restricted to groupings of 15 people.
Airfield indoor heritage experience will close.
The Farmers Market will continue with queue management.
Howbert & Mays and The Little school will remain open.
If you have any queries send us an email to hello@airfield.ie.
Food Options
The Stables café is open with a counter serving takeout barista-style coffees, sandwiches and treats with picnic benches dotted about the Estate.

Every Saturday and Sunday you will also be able to pre-book afternoon tea and picnics to enjoy during your visit or enjoy a hot BBQ in the Green Barn (located beside the farmyard).

We also have the Horse Box Coffee takeout option located just outside the garden centre which is open 7 days a week from 9.30 am - 4 pm. Please note all food outlets are only accepting card payments.
Visitor Trail
We've created a visitor trail which will bring you around the Estate once and should take about 40-60 minutes to walk.

The map below illustrates the one-way trail which is designed with safety in mind for both staff and visitors.

We ask that you enjoy your time by walking the set paths we've created and to not dwell in any area to ensure social distancing for groups ahead and behind you.
Some of our buildings (Grey Barn and Overends Kitchen) will remain closed.
Opening Times:
Wednesday – Sunday 9.30 am - 4.30 pm with the last admission at 3.30 pm.
Please note these times are subject to change and children should be under adult supervision at all times.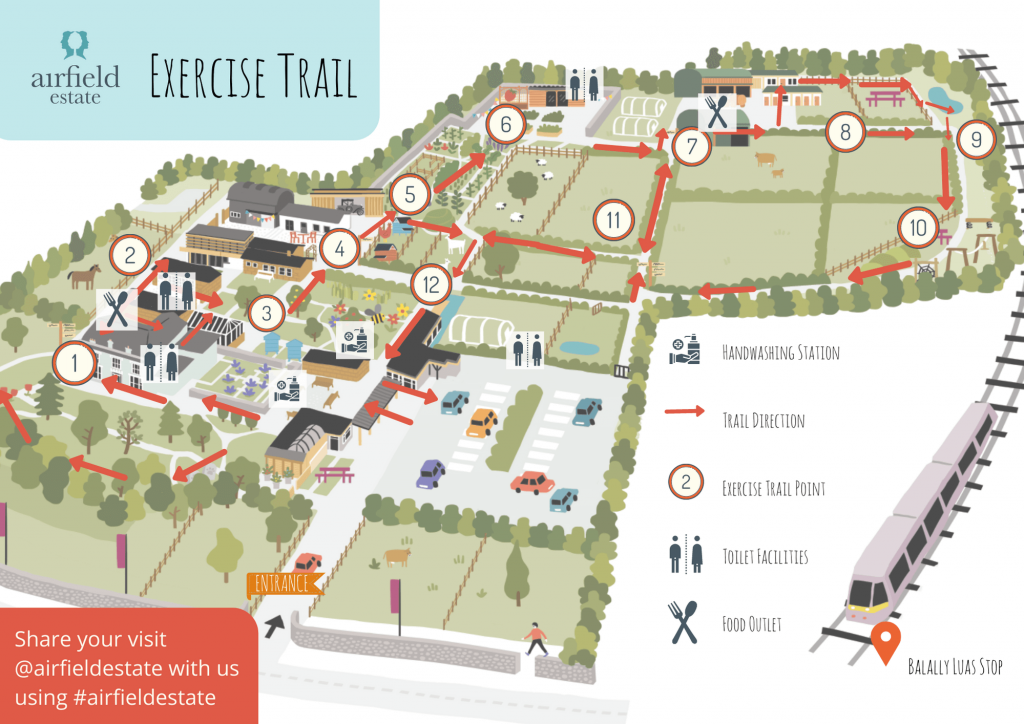 Keeping Safe During your visit
We've put measures in place to ensure a safe environment for everyone. We will review our plans frequently and adapt when we need to.
Stay part of our community
We know not everyone will be able to visit us at the moment, so please stay connected with us online. We will continue to share videos, pictures and information that showcase our lovely grounds at Airfield.
Keep an eye on our Airfield Estate Instagram, Facebook and Twitter and take a look at Airfield Gardens, Airfield Farm and Overends Kitchen on Instagram.
FAQ's
Will there be toilet facilities?
The toilet located beside the Inspiration Kitchen will be open to the public at point 6 on the visitor map, toilets in the house & a toilet available in the main car park are also open.
Can I book my ticket on arrival?
We will not be taking any bookings at the ticket desk, all booking must be made online in advance.
Can I purchase an Annual Pass?
Yes, please call us on 01 969 6666 or email hello@airfield.ie to arrange this.
What areas of Airfield are accessible?
Stables Café for take away, no seating.
Organic Food Gardens
Toilet facilities located at Inspiration Kitchen and in the main car park
Naturescape play area
Walled garden
Front Lawn
Farm
Green Barn BBQ
NOTE: Areas open are subject to change as staff may need to close an area off for works or to ensure distancing, there will be no refunds if an area is closed
Are daily activities running?
They are running subject to changes in line with government recommendations and health advice..
Our Customer Charter
In line with HSA guidelines, Airfield has taken all reasonable precautions to prevent the spread of the COVID-19.
As a visitor to Airfield Estate I/we commit to;
Pre-book day tickets in advance of visiting Airfield Estate
Self monitor their own actions
Adhere to the queue/check in system in place on arrival.
Defer your visit if you have COVID-19 symptoms
Adhere to any travel limits in place
Adhere to the safety measures in place at Airfield Estate
Practice social distancing throughout the Estate
Minimise contact with surfaces during your visit
Follow the one way system in place
Ensure parental/guardian supervise with children at all times
Use contactless payments and avoid use of cash
Respect existing toilet facilities in the Estate
Respect our playgrounds and play areas
Thank you for your continued support and please bear with us while we adjust.