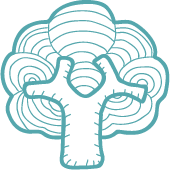 A Cuppa With Aislinn
This month we asked you to submit your questions for Aislinn Barrett - Head of CSR, Funding and Sponsorship at Airfield Estate.

What does your role involve?
I take care of Corporate Social Responsibility and Sponsorship/Funding at Airfield. This means working with outside organisations and companies on collaborative projects. Sometimes it's straightforward and a company will sponsor and or support an event or a project we're working on. More often, I work with other charitable organisations or my internal colleagues on mission-aligned projects and then try to find appropriate funding to support the projects. Occasionally, I get the opportunity to run the projects!

What's your favourite part of your job?
My favourite part of the job is collaborating with different organisations, companies and colleagues on creative projects that bring our best ideas and values to life. I have to add that, I also take great pleasure from seeing a project have a real impact and make a difference.

Tell us about your career path to CSR?
I studied business and hospitality management at college and initially worked as a hotel manager. For a brief period, after my first daughter was born, I worked with REHAB teaching restaurant and kitchen skills to young people with disabilities. We moved to the US, and I went back into hotels and restaurants but this time in sales and marketing. A few years after returning to Ireland, I joined the great team at Airfield Estate, initially covering a maternity leave contract for a year and then was lucky enough to be able to set up the CSR & Sponsorship/Funding department.

Do you have a favourite spot in Airfield?
There are so many beautiful spots in Airfield… I think my favourite is on the bridge at the big pond. It's so peaceful. Airfield always makes me feel connected to the country, it's like a slice of heaven in the city!

What facilities/ adaptions have you in place for those with additional needs ie. Sensory

We're so lucky that Airfield accommodates so many people with additional needs from access to the culture of the place. The walled garden in particular, is an area that is planted to please the senses and we try to keep it as a quiet area. While we don't have a dedicated sensory room at Airfield, there is always a quiet area to be found. During special events, we designate a quiet room and at big events like Christmas, we work with As I Am to have a designated Autism friendly day where families can enjoy a sensory managed family event

Do you have a favourite project you've worked on?
I love working on Food Waste and environmental projects, but the ones that have made a real difference in people's lives, like the WALK Real Ability Program and Good Food Delivered are the ones I'm proudest of

How can companies or people get involved?
Email me at [email protected] We love to work with companies and organisations that are aligned with our values and we also have some limited opportunities for individual volunteers.

Thank you for all the great questions this month! Keep your eyes peeled for next month's Cuppa With team member.