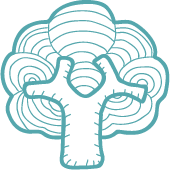 A Cuppa With Colm
This month's cuppa with features Colm O'Driscoll, Head Gardener at Airfield Estate.

Did you always want to be a gardener?
No. I was 24 before I returned to college to study Horticulture.

Are there career opportunities in Airfield at the moment?
There are no current opportunities in the gardens but keep an eye on our careers page where jobs will be posted when available.

What other profession other than gardening do you see yourself doing?
I would have liked to train as a carpenter but that is very unlikely to happen. Consultancy, design or lecturing are all avenues I would like to explore.

What is your favourite sport?
Soccer & surfing are my joint favourite.

Best place in the world?
Sabah in Borneo. One of the most diverse locations I have ever been too.

Did you always want to be a gardener?
No, I wanted to earn lots of money when I was younger, so I originally studied business studies.

Any tips for getting started with gardening at home?
Get straight to the good part. Start growing plants from seeds. it is one of the most rewarding aspects of gardening.

What do you enjoy doing – apart from gardening?
Visiting gardens, surfing, and swimming when the sea temperature is bearable.

Favourite spot in Airfield?
Glasshouse, it was completely empty when I started here and it has been a joy to develop it.

Favourite thing about your job?
The opportunity for continued learning. Horticulture is constantly evolving and there is always something new to learn or experiment with.

Help! I have dog mould on my African milk week potting soil. What do I do?
If you haven't repotted the African Milk Weed in a while maybe this might be the perfect excuse to do so. The mould might have already spread spores onto your plant however. If that is the case just scrape the mould off early in its development stage hopefully before it sets spores.

Thanks for submitting your questions, keep an eye out for next month's question box on Instagram in a few weeks.