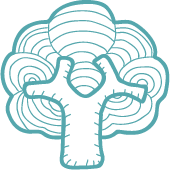 A Cuppa With Grainne
Each month, we'll be enjoying a cuppa with members of the team at Airfield Estate. First up is Grainne Kelliher, CEO of Airfield Estate. Thank you to those who submitted these questions on Instagram.

What was the career path to your role?
When I finished my degree in 1991, I went straight to Paris as there was little or no employment opportunities in Ireland at the time. I secured a management training programme with Disneyland Paris and started with them about a year and a half before the park opened. I worked my way up to an area manager role during my 7 years there.

I then moved back to Ireland and worked in property and facilities management with Quinlan Private for 11 years, initially in a general manager role and then became CEO of its integrated services operations, including property, facilities and parking enforcement. I then joined ARAMARK as MD of property and became VP Food Services for 4 years, managing a team of 3,500 around Ireland.

It was always an ambition of mine to work in the social enterprise sector so when the opportunity to lead the team at Airfield presented itself, it seemed like a perfect fit. I grew up on a dairy farm, always had a love for food, had the visitor experience knowledge from Disney and the property, facilities and food know how from my subsequent roles.

Airfield embodies all that I am passionate about and I feel privileged to have been given the opportunity to lead this unique and purposeful organisation since 2014.

Do you have a favourite place in Airfield Estate?
I can't say I have a favourite place as every area has its own charm but I find the food gardens inspiring no matter the season. It's always busting with new life and something to pique my interest every time I walk through it….from artichokes to yacons and so much more in between.

What is your favourite part of your job?
I love the diversity of the role and the people involved in Airfield, I describe it as a village and each day brings new opportunities and challenges.

The diversity of our activities and the people involved leads to great debates and you learn from these all the time.

I'm particularly chuffed when we can make a positive difference in someone's life and proud to say we have many examples of this over the years.

Name some people that inspire you?
I love hearing peoples stories and am inspired in ways by the people I meet every day. I'm particularly inspired by people in the arts, understanding their story and gobsmacked by their creativity. I'd listen to Mary Robinson and Micheal O Muircheartaig all day and have been really taken by Noelle Brown in recent times.

What is your favourite food?
I love food full stop and couldn't pick a favourite. If I was to have a last supper, the Airfield Jersey Milk and Organic Fruit and Veg would be top of the list!

What advice would you give someone who wants to have a career in a place such as Airfield Estate?
Look out for volunteering opportunities, it's a nice way to get to know Airfield and the team and you will find out what area particularly interests you.

We also have festivals and events and they are great fun to work at. Roles in ticketing, food and beverage and facilities present themselves from time to time so keep an eye on the website for those.

We like to create development opportunities for our staff and have many examples of people that started in one area of the estate and progressed to other areas and more senior roles within the organisation.

Do you keep all the animals that are born there?
We tend to keep most but do tend to sell the odd male Jersey calf as the can't be milked. Some animals however do leave the estate to be processed for the restaurant.

What is the minimum and maximum wedding capacity for this venue?
Our approach to weddings is 'small is beautiful' and we can accommodate between 35-110 guests. We are a perfect choice for nature and food lovers with much of the food served on the special day coming from the surrounding farm and gardens.

What does your typical day look like?
I'm an early riser, up just after 6, I like to plan, prioritise and get ahead of the day. I tend to get to the office around 8, walk the estate first thing, casually meet with some of the staff and then it's back to the office, Americano in hand, to get stuck it to my to do list.

My role in strategic, requires forward planning, creative thinking and the ability to see around corners so much time is dedicated to this and keeping the Board, Trust and Team up to speed on such matters.

I would typically attend a few meetings on site and always allow time for the surprises that a busy operation can throw up. My day may also involve meetings relating to my board membership of AVEA and Dundrum 2030.


Thank you to everybody who submitted their questions via Instagram, keep an eye out @airfieldestate account for next months question box.