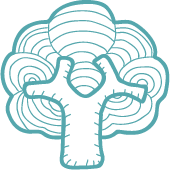 Green Christmas
With a strong emphasis on environmental awareness and sustainability, Airfield will work across the Estate to showcase a glorious green rustic-inspired Christmas that reduces the use of plastics and glitter, along with a reduction in store-bought decorations, a move to upcycling existing decorations and the use of natural decorative features. There will be wastepaper art installations and ideas for alternative gift-wrapping.

Elves costumes will be designed from charity shop finds, children's gifts will be ethically sourced with reduced packaging and presented in reusable cloth bags.

Bulb planting will use soil made from Estate food waste. The food offerings will be seasonal and locally sourced including Estate raised hot-dogs and all food and drink ware will be compostable. Visitors will be encouraged to explore the experience without the use of printed maps and parents will be gifted Christmas Leftover Recipe Cards to encourage a Green Christmas at home. The Estate will also explore practical ways to reduce the energy consumption of lighting and heating throughout the Christmas period.

Airfield is a 100% independent charitable trust, a non-partisan organisation committed to promoting, enabling and advocating for positive social change through food education, research, development and investment. Any surplus profits that Airfield Estate generates throughout the year from visitor entry fees, membership, seasonal experiences, festivals and other social events are reinvested in the development and execution of Airfield's many educational programmes and charitable initiatives.