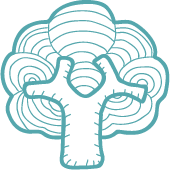 Halloween Trail
This October Mid-Term enjoy a self-guided stroll through the Halloween Trail at Airfield Estate.

Airfield Estate is open to those with pre-booked tickets and annual pass holders for the duration of level 5 restrictions.

Follow the adventures of Tot and Bill who discover their aunt Fanny's diary in an old trunk. After brushing off the dusty cover they unwittingly activate the diary's time portal and are transported back to Dundrum in 600 AD during the Viking occupation of the town. Tot and Bill encounter grave robbers in St. Nathi's, a highwayman on the Enniskerry Road, soldiers defending The Pale from the 'wild Irish' at Puck's Castle before finding themselves safely back at Airfield Estate just in time for All Hallows Eve.

The Halloween Trail at Airfield Estate will run from Saturday 17th October – Sunday 1st November and is included with all pre-booked tickets and with free access for annual pass holders.

Make the most of your visit to Airfield by ordering a picnic in advance to enjoy anywhere in Airfield!

Overends Kitchen will be running their pop up BBQ serving tasty food on the go from 24th October – 1st November in The Green Barn at Airfield.

In the interest of your safety, our staff and fellow visitors we would ask you to respect the current COVID guidelines and the controls in place in Airfield, to ensure that you have a safe and enjoyable experience.


Pre-Book Picnic Box

Available from €12.50



Please adhere to government guidelines when visiting Airfield Estate.