Overends Kitchen
Overends Kitchen is a place where we connect land and table, farmer and eater in an environment that is casual and engaging. Our dining experience at Airfield is inspired by the visionary Overend Sisters and the 38-acre farm that they entrusted us with to produce honest, great-tasting food.
If you are after a weekday lunch, weekend brunch or slow roast lunch at the weekend with the family you should visit Overends Kitchen. We design our menus (even the cocktails!) around the weekly harvest and produce from our garden and farm teams in Airfield Estate.
Our new Farm Shop and Tunnel Café opened to a great reaction from all the visitors to Airfield Estate in Dundrum. Milk from our Jersey herd, eggs from the hens on the Estate and a range of products on the shelves made from ingredients from our working farm. Plenty of Irish producers on display within the shop for you to browse.
We're serving amazing McCabe's coffee and teas along with freshly baked items such as bread, pastry, cookies, as well as sausage rolls, freshly made sandwiches, Airfield salads, and topped focaccia. Enjoy them in our brand-new seating area!
You can visit the farm shop and tunnel cafe every day from 9 am - 6 pm.
Lunch & Brunch Booking
Denis Cotter Pop Up Dinner (sold out)
Overends Kitchen is happy to present a pop-up dinner with Dennis Cotter on July 22nd. Due to popular demand, we have added a second date of Friday 26th August 2022 . Denis will be creating another delicious 5 course menu around the harvest from the farm matched with wine pairings from Le Caveau.

Conscious cooking
Maintaining a positive and respectful food ethos is important to us and a big part of our Culinary Lead's role.
It's made up of four simple guidelines (GLAS) that help us grow, farm, use and give back, all on the land that was gifted by the Overend sisters. It's an ethos that adds to what you get as a customer and because there's conscious behind our cooking, it feels as good as it tastes..
Call 969 6641or Email [email protected]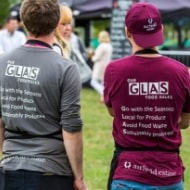 G.L.A.S
Our food ethos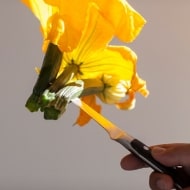 G
Go with the seasons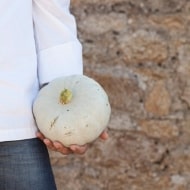 L
Local produce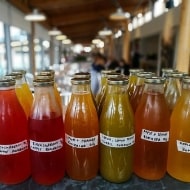 A
Avoid food waste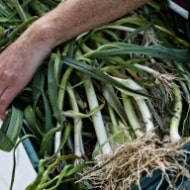 S
Sustainable practices