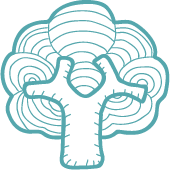 Cuppa With Irene
This months' cuppa with is with Irene, our Tour Guide at Airfield Estate.

Best thing about your job ?

Being a tour guide at Airfield Estate really suits me. I collect the hens eggs first thing in the morning with the visitors, then head to the farm where I talk about our jersey herd, I give two daily heritage tours, and I finish my day with a bite size tour of the food gardens. The variety suits me, I constantly engage with the visitors, giving them updates on what's happening on the estate, and advising them on what might be suitable for them. Most of my day is spent outdoors, getting my steps in while telling the great story about Airfield and the wonderful Overend family. I'm reminded of the saying, 'choose a job you love & you will never have to work a day in your life'.

Have you worked in Airfield long?

I have just started my 9th year. Time flies when you are enjoying yourself.

The favourite tour you have given

I have given tours to The Duchess of Wales, a few Ambassadors, to National Geographic, Corporate Groups & many more, but my favourite tours are to groups, such as Active retirement. They come to Airfield for a day out, they have their research done on what they expect to see. They love having the banter, hearing all the stories about the Overend sisters, (which we learned from the thousands of letters that we found in the attic).  Invariably they follow up their visit with a handwritten thank you note, then I know they really got the story.

Tips for somebody who might like to get into the profession

Get good training such as Dublinia's accredited Failte Ireland National Guide Course or the certificate course given by Ireland's best Tour Guide, Pat Liddy. There is also accreditation from The World FoodTravel Association. Keep up skilling & learning and hard work pays off.

Standout moment of working at Airfield Estate

I have many, many stand out moments from the last eight years here, but the one that keeps popping into my head is the one day 4 years ago.  I was bringing a large group of families to do the animal feeding, which included feeding the goats. One of the goats was in labour, and in front of the groups of 12 adults & 20 children, the goat gave birth to 2 baby kid goats. I walkie talked to the farmer & he calmly arrived within minutes. As a group we hung on to each other and just watched in wonder, you could have heard a pin drop, the children were mesmerised as were all the adults. We witnessed the mother goat showing her naturally instinctive side, she knew exactly what to do, then licked them clean, we saw them standing up on their own within minutes. It was an emotional and beautiful experience. This is my stand out moment at Airfield.

Do you have a favourite spot in Airfield?

Yes, pending on the weather. I love the trees, gardens and woodland walk. But if I have a quiet day, I like to get a good coffee from the Stables Café & bring it to the vestibule in the Heritage house.

It's a beautiful tranquil space, with the original encaustic tiles,  looking into the walled garden, and out to the Dublin Mountains in the background. From this room, you can see the wisteria climbing up the sidewall of the library, some of the Overend's cacti & specimen plants that are lovingly cared for by the garden team. Regarding Airfield, Naomi said that 'it would be difficult to find a happier haunt if you searched the world'. I bet she said that looking out from the vestibule!

Most interesting thing you know about Airfield Estate.

So many interesting facts, but I do like the fact that Letitia & Naomi were so independent, they never married, but that did not stop them from having a very fulfilled life, they bought property, went on exotic holidays, drove amazing cars, and so on. But the fact that they purposefully went about continually adding to their estate, to have this wonderful 38-acre green belt and to leave it in trust to the people of Ireland. It's such a treasure.

What do you enjoy doing outside work?

I enjoy my family, friends, music, travel, books, food & wine. To relax, I like to do mindfulness and jogging, and try's to keep on top of the garden.

What made you choose to become a Tour Guide?

In 2010, my youngest child went to University, which left me with much more freedom. I have a great interest in the Arts, Music, History & Culture and knew that Tour Guiding would dip into all these areas. Becoming a Tour Guide has been a very positive experience in my life.

What is your favourite thing about working at Airfield .?

The customers are wonderful, but my favourite thing about working at Airfield are my work colleagues. We all want Airfield to be a success, for it to survive well into the next generations. We all inspire and enable people to make better food choices. Better for people, better for the planet, and better for our pockets… which is our mission statement here at Airfield Estate. It's a great team.