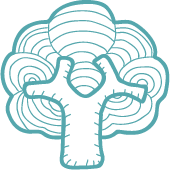 Airfield Dromartin Jersey Herd
Since Lily Overend purchased her first Jersey cow back in 1894 the Dromartin Herd has been in existence and today we continue to follow in their trailblazing footsteps.

At Airfield Estate - a 38 acre working farm and organic food gardens, located in the heart of Dundrum, our mission is to showcase the cycle of food, all the way from soil to society.

Set against the backdrop of the Overend family home, we do this in a highly immersive and engaging way, through our daily activities, education programme, Overends Kitchen and onsite events.

Airfield Estate History

Trevor and Lily Overend purchased Airfield in 1894. Lily was the driving force behind the farm - over time building up the famous Dromartin Jersey Herd, whom she named after characters from Gilbert & Sullivan operettas.

The family began by selling milk, eggs and butter to neighbours and were soon supplying produce to local creameries.

In 1908 the Women's National Health Association set up Dublin's first pasteurised milk depot. Milk from dairy farms such as Airfield supplied this depot, providing pasteurised milk to disadvantaged families with the aim of preventing tuberculosis.

We continue the tradition of Jersey dairy cows here at Airfield, and to this day - they are milked daily on the farm.

Memories of Airfield Estate

Olivia Goodwillie & Jenny Todd remember their childhood growing up close to Airfield Estate.

Gilbert & Sullivan

There has been a long tradition of naming Domartin Jersey cattle after characters in Gilbert & Sullivan musicals. Yum Yum, Patience & Petti Sing were particular favourites.

Gilbert & Sullivan were successful Victorian-era theatrical partnership. The dramatist W.S. Gilbert and the composer Arthur Sullivan jointly collaborated on foutreen comic operas between 1871 and 1896. The operas included H.M.S. Pinafore, The Mikado, The Sorcerer and The Pirates of Pensance.

Family Correspondence

Airfield's Dromartin Jersey Herd regularly featured in letters between Trevor and his daughter Letitia.

Jersey Milk For Sale

As early as 1907, Lily was selling milk and eggs to family, friends and neighbours.
In later years Airfield was registered with the Dublin District Milk Board, supplying milk to Hughes Brothers Dairy and Premier Dairies until the 1990s.

Today you can still enjoy Airfield's jersey milk available from Overends Kitchen.

Traditional Milk Churns

Milk churns are tall cylindrical containers used for the transportation of milk.

Traditionally, milk churns were left by the road by dairy farmers on purpose built platforms. The height of the platform allowed the milk churns to be easily loaded into a dairy cart or milk lorry.

Milk churns fell out of use when milk began to be collected by tankers, and popular use ceased entirely in 1979.

Traditional Milk Churns

Making Hay at Airfield

A Jersey cow half-chews hay or grass before swallowing it into her first stomach compartment – the rumen.

A cow can hold approximately 100 litres of chewed grass in her rumen!

Butter Churns

A butter churn is a device used to convert cream into butter. This is done through a mechanical process, frequently by a pole inserted through the lid of the churn (Dash Churn) or by a crank used to turn a rotating device or paddle inside the churn (Barrel or Paddle Churn).

The Dash Churn was the classic churn used for centuries until it was made obsolete by the advent of the hand-cranked churn equipped with gears.


Images of dash churns appear in medieval manuscripts & countless depictions of Baby Krishna stealing butter…


Butter Making Demo

Traditional butter making using Airfield Jersey milk with Fiona Deacy.

Butter Storage

BUTTER PATS
Butter Pats (also know as Scotch Hands) are wooden spatulas used when making butter. They are used to press freshly churned butter to remove the watery buttermilk. One side of the paddle is ribbed to allow the buttermilk drain away.

BUTTER BOXES
Used as storage for factory butter intended for transport/distribution. They were crudely made from wooden staves with nails holding the box together.

Dromartin Jersey Herd

Spanning a period of nine decades - Airfield's Dromartin Jersey Herd won numerous rosettes at the Royal Dublin Society (RDS) Spring Show.

Letitia Overend (pictured) was a familiar sight in the environs of the RDS, and was regularly seen towing a trailer of Jersey cows behind her 1927 Rolls Royce Tourer!

Tradition Continues at Airfield

The Dromartin Jersey Herd continue to be part of the traditional heritage at Airfield.

Our herd is milked once a day as part of our commitment to sustainable farming, and the dairy allows visitors to watch the herd being milked, understand the pasteurisation process and taste the fresh, creamy milk we use across the estate.

From grass to glass

It takes 50 to 70 hours for a cow to turn grass into milk.

Depending on the breed, a cow can make between 25 and 40 litres of milk a day.

Airfield recently introduced once a day milking – a relatively new practice in Ireland. The benefits include higher conception rates, herd longevity and lower water consumption.