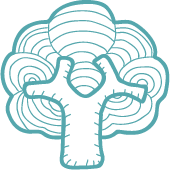 Homemade Tea Brack
Rachel from the sales team here and I'll be contributing some of my favourite recipes to make at home over the coming weeks.

This is a very simple recipe for all to make. It is one of my favourite recipes that can be enjoyed, warm, as soon as it comes out of the oven or a few days later (if it lasts that long), toasted with loads of butter melted into the slice.

This tea brack also freezes very well so if you don't want to overindulge you can freeze half of it for another time.

The fruit is left to soak overnight in the tea which really plumps it up making a very moist fruit loaf.

Ingredients:

Day 1
1lb of raisins
1 large cup of tea

Day 2
¾ cup of brown sugar
1 egg, lightly beaten
2 cups of plain flour
1 teaspoon of baking powder
1 teaspoon of mixed spice

Method

Place the raisins in a heatproof dish and add the sugar.
Make a strong cup of tea and pour over the raisins, leave overnight for the fruit to soak up all the tea and go really juicy and plump.

Make sure that you use the same size cup throughout the recipe
The next day, preheat the oven to 150°C and line a 2lb loaf tin with parchment paper.

Combine the flour, baking powder and mixed spice in a bowl and lightly mix together.

Place the dry ingredients into the raisins, add the lightly beaten egg and mix well. The mixture should be wet and dough-like. It doesn't look the most appetising at this stage, but it will!

Spoon the mixture into your lined tin, place in the middle shelf of the oven and bake for 1 ½ hours.

Test that the brack is cooked by sticking a skewer into the cake. If it comes out clean it is cooked. If there is still a little bit of wet dough at the end of the skewer, place back in the oven for a few more minutes.

Remove from the oven and leave to cool slightly in the tin before. removing onto a wire rack

Serve warm with a cup of freshly brewed tea and enjoy.