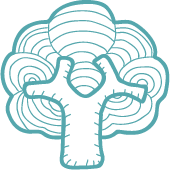 June Seed Sowing Guide
June is a great time for seed sowing. Warm air and soil give young plants a great start, as long as you give them adequate water. Many plants sown now will crop or bloom in only a few weeks!

Nasturtium

With big seeds, quick and easy germination, and colourful flowers, nasturtiums are great plants for sowing with children. They are versatile too and can be grown as companion plants, as climbers, or for their edible flowers. You can sow seeds 1.5 cm deep directly where you want them to flower. Varieties come in many colours: Peach melba, cherry rosa, and empress of India are some of our favourites.

Fennel

Fennel is a Mediterranean plant that likes warmth, so can only really be grown in Ireland in summer. It can be sown indoors earlier for transplanting outside or direct sown this month. Either way, the final spacing should be 30cm between plants. Fennel likes moist soil so needs a bit of looking after. It's worth the effort, with edible foliage.

Kohlrabi

Kohlrabi has a mild turnip taste and is delicious roasted, steamed or even raw in a salad. It is a funky addition to the garden, with an unusual shape and green, white, and purple varieties. As a brassica, it shouldn't be grown in the same spot each year. Sow seeds thinly into moist, well-drained soil and thin to 25cm as the seedlings grow. Supershmettze is a giant white variety that can grow up to 8kg in weight.

Parsley

Parsley is a kitchen staple, and rightly so. It can be easily grown in a deep pot indoors or a moist spot in the garden. Italian giant is a vigorous flat-leaved variety that often reseeds itself to return each year. Parsley can be direct sown in June or started indoors earlier.

Scallions

Scallions are a versatile, tasty allium. They can be eaten raw but work great in stir fries, too. They are easy to grow so are ideal for beginner gardeners. Scallions are not fussy: sow them 1cm deep in containers or outdoors wherever you have space.

Harvest by removing the largest bulbs and letting the rest grow on. Hardy varieties can be overwintered for an early crop next spring.

If you're looking for more garden inspiration, why not visit Airfield organic food gardens in Dundrum?