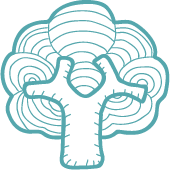 Seasonal Meal Planner (May)
Sometimes it is easy to think that when we put food waste into the compost heap or brown bin that we are doing something right. Afterall, it's returning the nutrients to the soil, isn't it? Well, yes, it is and as a last resort – it's the right way to go to keep food waste out of landfill. But we should be aiming to do better and stop food waste altogether.

Stopping food waste means being aware of what we are buying and how much we are buying. Simple things like meal planning and shopping lists help us to work out how much food is needed in the home for that week. Making sure we know what's in the house before going shopping is important too and will stop us over buying when we get there.

By reducing what we buy and throwing away less we will help reduce the cost of food waste on the environment and on our pockets, as the brown bins go out less. Composting is great for the food waste that's unavoidable (bones, banana skins etc.) but let's keep it to that.

Save money in the shops and money in the brown bin by buying only what's necessary this month!

Share your plans with us by using #AvoidFoodWaste and most of all – have fun!​

Bonus Recipe from Chef Luke Matthews

Broad bean smash
This is a labour of love but I find shelling peas and broad beans therapeutic. It's also a good chance to get smaller hands involved in cooking as prepping broad beans doesn't require any knife work. This recipe makes a great replacement for avo smash on toast for those of us who like brunch – jazz it up with a fried egg, some ricotta and some chilli rayu!


Ingredients
1 kg broad beans – shelled
100 ml olive oil
½ clove garlic
Juice ½ lemon
Pinch of salt
Pinch of cayenne
1 petal of preserved lemon ( optional )

Once the broad beans are shelled bring a medium pan of water to a boil.
Add enough salt to the water so you can taste it. When the water is at a rolling boil drop the broad beans in. Put a 3-minute timer on.
Drain off the broad beans and run under cold water to cool down and allow to drain really well.
Put the rest of the ingredients in a food processor (a hand blender will do the job too) and whizz to a paste.
Add the cooked broad beans and pulse so it's a coarse paste.
Check for seasoning and adjust if necessary.

Enjoy!