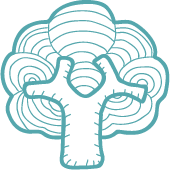 Seasonal Meal Planner (December)
At this time of year, we tend to go a little bit crazy when buying food. We like to treat ourselves and eat food which we might not eat the rest of the year. We also tend to shop as if twice as many people live at our house at Christmas and because of this, Irish shoppers waste 50% more food during Christmas week than during the entire rest of the year. Peaking during the holiday season, collectively we will throw out around €42 million worth of food!

This year, take the time to plan out the Christmas weeks. In this exceptional year, we will probably be dining out less in other people's houses and having fewer people over, so don't over buy. Do try and buy Irish as much as possible. The entire Christmas dinner can be bought from Irish producers as all the food contained within it is seasonal to us. Support local farmers markets and remember that for every €1 spent in a local producers shop, 70c of it stays locally – and that is a great Christmas gift to the producer and the economy.

Also, please consider donating to a local food bank and maybe keep donating throughout the year. Food poverty affects many people in Ireland, so spread some love, waste a little less food and Merry Christmas to you all!

Share your plans with us by using #AvoidFoodWaste and most of all – have fun!​