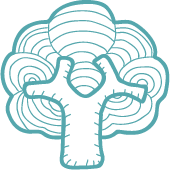 Tomato Seed Sowing and Trial Updates
It's time to get planting tomato seeds

Valentine's day holds a special marker in the memory of the gardening team here in Airfield. It is the date by which we aim to sow all our tunnel-grown tomato seeds for the coming season. After all what could be more romantic than pledging a summer full of tomatoes to your loved one on the 14th of February.

Tomatoes are a crop we feel quite passionately about and grow in abundance each year. On average we grow approximately 300 plants and over 20 different varieties annually. With over 10,000 varieties to choose from, few crops can rival tomatoes in terms of the diversity of options. Our aim in the gardens is to cultivate a list of tomato cultivars that not only grow strong and healthy in Irish organic conditions but also produce an abundance of great-tasting fruits. To achieve this, we trial and access new varieties on an annual basis. When assessing the tomatoes, we not only evaluate their growth performance but also of equal importance is their performance on the plate. To this end, we draft in the help of the culinary team in Overend's Kitchen to conduct a taste test. The evaluation process can be unforgiving, and varieties are regularly condemned to the scrap heap if their taste isn't up to scratch. Our tomato trial has three specific goals which we work towards each year. These goals are as follows: 1. Find an open-pollinated alternative to the excellent hybrid "Sungold" F1 cherry tomato. 2. Produce a list of open-pollinated heritage tomato varieties that are visually stimulating, great-tasting, and grow well in Irish organic conditions. 3. Complete a list of the best performing open-pollinated outdoor tomato cultivars for an Irish Climate.

"Sungold" F1 and "Rosella" are two varieties that have traditionally been a mainstay of our cherry tomato growing. Both are excellent tomatoes but there is one key difference between the two. Sungold is a hybrid variety while Rosella is an open-pollinated variety. Although hybrid seeds bring many advantages, one major disadvantage is the seed they produce will not be true to type. This means that the seed they produce will not be a stable replica of the variety Sungold. For this reason, we favour growing varieties that are open-pollinated. Open-pollinated seed produces reliable seeds that reflect the original variety grown. Since the introduction of Brexit, we have struggled to source many varieties of hybrid seeds. By selecting, growing, and saving open-pollinated seeds we can reduce our reliance on imported and help improve our seed sovereignty.

View this post on Instagram

We are entering our third season of trials to find a replacement for "Sungold F1" hybrid seed. So far the top-performing alternative varieties are "Isis Candy Cherry", "Goldiana" and "Gardener's Ecstasy". Although all three are great tasting and strong growing tomato varieties they don't quite live up to the performance of "Sungold". I am however excited by two new varieties we will be trailing this year, "Indigo Sungold" and "Gobstopper". Both varieties are de-hybridized Sungold selections and originate from Wild Mountain Seeds in Colorado. If they live up to their billing on the seed catalogue, they both could be worthy alternatives to the hybrid Sungold F1.

2022 will be our fourth-year trailing heritage tomato seeds. Our goal is to have a mix of a minimum of ten excellent heritage varieties. Each season we add and remove varieties to our list based on their performance. A pattern of top-performing varieties is beginning to emerge as certain cultivars continually outperform the rest. "Brad's Atomic Grape", "Moskvich" and "Candy Sweet Icicle" are three varieties that have topped the charts consistently since 2019. Two varieties you may wish to avoid are Violet Jasper and Blue Cream Berries which scored 3.5/10 and 2.5/10 in our taste test respectively.

Outdoor tomatoes in an Irish climate can be a challenge but "Stupice" and "Sunviva" are two varieties that have excelled in our first year of trails. Seed of outdoor tomatoes does not need to be sown until Mid March into early April so there is still plenty of time for you to plan your own outdoor tomato trial. Of all the fruit and vegetables you can grow at home, I believe none will have such a dramatic difference in taste as that between shop-bought and homegrown tomatoes. For this reason alone I would strongly recommend growing your tomatoes. If space is an issue micro varieties such as "orange hat", "House" and "Micro-Tom" are great options for a sunny windowsill. We are always interested in trailing new tomato varieties so if you have any variety recommendations please send your suggestions to

[email protected]

or get in touch on Instagram @airfieldgardens Happy sowing, Colm This year we will be hosting the Totally Terrific Tomato Festival at Airfield Estate on 27th & 28th August. Make sure to come along to discover over 150 varieties of this ever popular fruit.