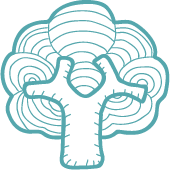 What to Sow in March
March is when the garden really starts waking up after winter. Gardeners are kept on their toes- the weather can be unpredictable and there's a lot to do during the bright spells. It's a month for mulching, pruning, and, of course, sowing seeds!

We've been combing through our sowing records to find some of the highlights from years gone by.

Here are five of our favourites:

1) Beetroot

Beta vulgaris subsp. vulgaris, Conditiva Group is a great vegetable for beginners. It's low maintenance, doesn't take up much space, and gives a nutritious and versatile crop.

If you want to try something unusual, there are many heritage varieties and colours to choose from. We sow multiple strains through spring and summer, including Badger Flame, Cylindra, and Touchstone Gold. Beets can be sown directly into the soil, or, if space is at a premium, they and their chard cousins can be grown in containers.

2) Chilean glory flower

Eccremocarpus scaber is a beautiful climber with dark green foliage and bright red-yellow flowers.

This is one to start indoors this month and plant out when the risk of frost has passed. In milder, sheltered spots it can survive the winter, though in Ireland it is usually treated as an annual. It can be let self-seed to return year after year. The Royal Horticultural Society has granted it the Award of Garden Merit (AGM).

3) Pineapple cape gooseberry

Physalis edulis is a small shrub with a striking and tasty lantern-encased fruit.

It is a dwarf, pineapple-flavoured form of the cape gooseberry, a popular desert garnish. Physalis edulis grows best indoors or in a sheltered spot outside. With frost protection it may last the winter, but new seedlings often produce more fruit.

4) Rainbow chard

Beta vulgaris subsp. vulgaris, Cicla Group and Flavescens Group is a favourite in our food gardens.

It is a relative of the beetroot that grown for its leaves and colourful stems rather than the root. It adds a real splash of colour to the gardens and, eventually, the plate. We start sowing successive crops from now until September, giving us a harvest that lasts through the winter.

5) Cosmos

Cosmos are easy to grow, colourful annuals with a long flowering period.

They are magnets for beneficial insects like pollinators and pest-controlling predators! Their edible petals come in all sorts of colours, from ruby to orange to apricot. Cosmos can be started indoors or sown directly outside after the last frost.

March is a month for optimism, with preparations to be made for summer and longer, warmer days to get it done. Good luck with whatever you decide to plant this spring and try to take it easy at first.

The growing season is just getting started!