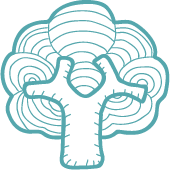 Hello Autumn! Here's What's New At Airfield Estate
As the little (and not so little ones) head back to school, we here at Airfield Estate move over to our Autumn programmes. We had a fantastic summer, and want to thank you to everyone who has visited us and joined in our many activities. Beginning the first Wednesday of September we begin our new Autumn programme, carefully curated to help you experience this very special time of year here at Airfield Estate. And as a reminder, our opening hours during this time of year are Wednesday to Sunday from 9:30 am until 4:30 pm.

As always, days at Airfield will kick off with our back to back Egg Collection and Jersey Cow Milking at 10 am and 10:30 am respectfully. After this, there's time to explore until the 12 pm family tour of Airfield House, which is also on at 2 pm if you miss the first chance. We'll also have our Autumn Trail Sheet available to pick up at the ticket office every day, which will guide children and families around on a fun-fact treasure hunt.

Returning to our daily activities is the Tree Talk at 1:30 pm. Airfield Estate is home to a number of fantastic specimens of trees from all over the world, and autumn is the very best time of year to experience them in all their glory. This experience will meet in the Sunken Garden near the entrance gates, and include a walk around the immediate area.

New to the programme for the next few months is a 3 pm Estate Walk and Talk, which will include a broader overview of the Estate and a guided walk around the various areas, exploring our past, present and future as we continue to honour the legacy of the Overends sisters by striving to become Dublin's sustainable food hub.

Due to popularity of the event during the summer, our Crafternoon will be back for weekends only, and this time in a new location. Check with the team at the ticket office to find out where on the Estate it will be taking place from 1 pm - 4 pm on Saturdays and Sundays. We'll also have a weekend Storytime on Saturdays and Sundays at 11:30 am in Airfield House.

You can find out more about visiting us this Autumn here. We also have our full list of classes, workshops, and Supper Clubs available to book on our events page.