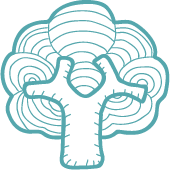 City of the future
Award-winning show garden designers Oliver and Liath Schurman of Mount Venus Nursery based in Rathfarnham originally created this circular raised model of a mini-futuristic city to communicate the role agriculture has on sustaining communities now and into the future.

The installation portrays the natural Irish landscape which depicts sustainable Irish agriculture production systems. In the centre of the display, a futuristic urban city emerges from the agricultural landscape. The urban city contains food manufacturing enterprises and retail outlets. This juxtaposition between the rural and urban landscape demonstrates the interlinkage between the rural and urban environment in producing sustainable Irish food and drink products.



First featured at Bloom 2018, this display was commissioned by Bord Bia to help tell the story of Origin Green. Now rehoused at Airfield Estate, we continue to share the story of Origin Green and how the Irish food industry is leading the way to a more sustainable future.