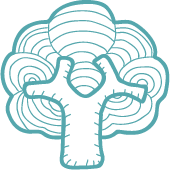 Supporting Young People Reach their Employment Ambitions
Conor Haugh has been a disability services Vocational Skills trainer with the WALK REAL Ability programme at Airfield Estate since 2020. As he begins to meet a new group of participants, he reflects on the value that this project has added since it began.

I have been lucky enough to work as a Vocational Trainer with the WALK REAL Ability programme at Airfield Estate for just over a year now. Before that, I had worked in a few departments in Airfield, from the café to the front desk to the education team. Working on different projects helped me to build skills and identify my own career goals. Through Airfield's partnership with WALK, I now get to guide young adults through their own career journeys.

How does it work?

The WALK REAL Ability programme supports young people with disabilities who can and want to work prepare for paid employment. In this role, I've worked with eight young adults with learning disabilities who are looking to find work.

The WALKers, as they call themselves, work and train in many of Airfield's departments, including the garden, farm, facilities, restaurant, and visitor experience. Airfield is uniquely suited to this type of programme given the range of work samples available. Throughout the programme they have developed new skills and connected and collaborated with new people - these experiences have enabled them to identify their passions and dream jobs.

Participants discover new interests

The WALK REAL Ability programme works to empower people with disabilities to live self-determined lives. Often, that involves pursuing a career and the purpose, independence, and financial security that entails.

On a normal day in Airfield, I meet the group in the morning and plan out our tasks. We might be feeding the animals, weeding the garden, greeting visitors, setting up an event, or helping with any number of other jobs that pop up in an environment as busy and diverse as Airfield.

There is a huge breadth of expertise among the staff here, who are generous with their knowledge and support and are delighted to share it with the participants of the Ability programme. It goes both ways- participants learn new key skills and staff meet people with backgrounds that they might not usually.

Opening up employment opportunities

"The collaboration between WALK and Airfield is important because it adds a valuable opportunity for Service Users to experience the real world of work in a secure and inclusive environment," says Des Henry, Careers & Employment Co-ordinator at WALK. "The impact of this type of experience cannot be replicated in a classroom and is difficult to access in the open labour market. It has proven its worth with the number of participants to date who have progressed into paid employment."

Participant stories

Saoirse

These participants include Saoirse, a young woman who came to the Airfield with no idea of what career paths were open to her. She tried out a few tasks and uncovered a skill and interest in cleaning, something she previously did only to help her family out. Saoirse now works as a valued member of Airfield's cleaning team with a bright future ahead of her.

Thomas and Rebecca

I've also gotten to know Thomas, a recent school-leaver with a knack for technology who helped document several Airfield projects (and taught me how to use a GoPro!), and Rebecca, a friendly young woman who loved chatting to visitors about Airfield's animals and history. Thomas is now part of a full-time employability training programme at Tallaght hospital, where he continues to develop the skills he harnessed at Airfield. Rebecca has moved on to paid work in the same hospital.

"I had an excellent time in Airfield," Rebecca remembers. "The staff were so lovely and I learned a lot about what kind of a job I would like to do."

A highlight for the group this year was helping to set up for Airfield's Christmas experience. They packed gifts, hung decorations, and some even dressed up as elfs to work the event itself! It was an example of how they had contributed to something tangible and meaningful. Airfield staff were quick to give praise and thanks.

During such a changeable year, the consistency and community that Airfield provided to the group were welcome and valuable.

These participants have now mostly moved on to employment or further training. They know they will be welcome back to visit any time. I know that the rest of the team at Airfield, like myself, are looking forward to meeting a new group soon.

Find out more about the WALK REAL Ability programme here.