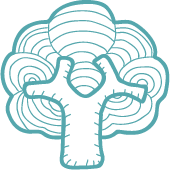 What to Sow in April
April is a busy time for the Irish gardener and it's no different at Airfield Estate. This is one of the most exciting gardening months: spring flowers are blooming, trees are in leaf, and seed sowing can really kick off! While late frosts and changeable weather do pose a threat, reliably longer and warmer days make this a good time for propagating many plants. Hardy cultivars can be sown outside and tender species can be started indoors for planting out next month. We've picked a selection of plants to sow at home in April.

Basil (Ocimum basilicum)

Basil is a delicious, versatile, and understandably popular herb. Coming from Asia, it loves warmth and sunlight. Seeds sown in containers and covered lightly with compost should be kept in a warm, indoor spot until germination. Once the plants have at least 5 'true' leaves they can be moved to their final position: preferably a warm windowsill or greenhouse, though a sheltered, sunny, outdoor spot can work too. There's a world of choice available when growing basil from seed, including the familiar Genovese, striking Purple Basil, and heritage varieties like Super Sweet Chen.

Spinach (Spinacia oleracea)

Spinach prefers moist, well-drained, partially-shaded soil. Sow seeds thinly and cover lightly. Thin seedlings to 15cm apart as they grow. In just 6-10 weeks, leaves will be ready to harvest! Baby leaves are great in salads and mature leaves in soups and stir-fries. Renegade is a fast-growing, high-yielding variety that has worked well for us.

Chickpea (Cicer arietinum)

Chickpeas are a relatively new crop in Ireland. In our damp climate, they are usually harvested green rather than as dried seed as in warmer regions. They can be sown directly into the ground at 7-13 cm intervals. After a few weeks, dense, weed-suppressing foliage will form. Chickpeas can be harvested as soon as they reach pea size and need minimal cooking. They will keep cropping until the first frost.

Sea holly (Eryngiums)

Sea holly is an architecturally fascinating plant, with spiny leaves, thistle-like flowers, and grey-to-blue hues. It is resilient, being generally pest and disease free and tolerant of poor soils. Seeds can be sown directly into the garden or started in pots. They like lots of sun and free-draining soil. Light is needed for the seeds to germinate, so take care not to cover them when sowing!

Sunflower (Helianthus)

April is a good month for sowing sunflowers. There is a huge range of colours and sizes available, all of which need sunny, sheltered locations, lots of water, and nutrient-rich soil (so be generous with compost when preparing a spot!). Sunflowers can be started in pots or sown directly where they are to grow. They'll shoot up and provide bright flowers all summer long! In autumn, the seeds can be harvested or left on the flowers as a natural bird feeder. If you'd like to discover what the garden team are growing this month, why not pay a visit? We are open Wednesday - Sunday!