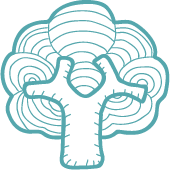 Carbon Footprint Progress
Climate change is one of the most urgent issues currently facing humanity. Human emissions of greenhouse gases (including carbon dioxide and methane) are a primary driver of this change.

The Intergovernmental Panel on Climate Change (IPCC) 2021 report states that "it is unequivocal that human influence has warmed the atmosphere, ocean and land". This has led to more extreme weather events, rising sea levels, and biodiversity loss. It states that "strong, rapid and sustained reductions" in greenhouse gases are necessary to stabilise warming global temperatures and mitigate the worst of these impacts.

The work we do in Airfield to educate on sustainable farming and food production has never been more relevant. Food production is a complex system tied to emissions at many steps. It is also a system at great threat of disruption due to the changing climate.

As always, our mission must be informed by science. In 2019, we commissioned a baseline carbon footprint assessment of the estate. This review has enabled us to evaluate where we are producing greenhouse gases and where we can reduce them. We are aiming for a 25% reduction in emissions by the end of 2022. Our ultimate goal is to become climate positive, with our actions absorbing more carbon than they emit.

So… what are we doing?

Thinking Local

Growing food in an urban area like Dundrum means that locals have access to food that is not driven or flown in from miles away, reducing emissions associated with transport. For the same reason, we buy our farm and garden inputs locally wherever possible.

Regenerative Land Management

We farm according to regenerative organic principles. This involves minimal physical and chemical soil disturbance, encouraging a build-up of carbon-based soil life that draws down and holds carbon from the atmosphere. Recent research by the Rodale Institute estimated that if current crop and pasture farming moved to regenerative practices, 100% of annual global CO2 emissions could be sequestered in the soil.

Airfield produces about 15 tonnes of organic waste each year. To make the most of this resource, we will install an aerobic digester in 2022. In this system bacteria and oxygen act on green and food waste, reducing it to 10-20% of its original mass. That remaining biomass can be used as a soil improver or as biofuel.

Solar Power

The sun provides more energy to the earth in an hour than is used worldwide in a year. As solar-powered technology improves, it holds huge potential as a renewable energy source. We are installing photovoltaic solar panels around the estate that we estimate will supply up to 70% of our average daily summer energy needs.

Electric Transport

As transport accounts for about a third of Ireland's energy needs, a move to electric transport may be one of the most effective ways to reduce carbon emissions in this country. To encourage this move, we will install additional electric car charging stations in our car parks.

Conserving Water

Industrial wastewater treatment is an energy-intensive process. To minimise water wastage, we use a reed bed filtration system to recycle greywater into flushing our restaurant toilets. On the farm, we have switched from a twice-daily to a once-daily milking schedule for our cattle, dramatically reducing the water needed to clean our milking system. We are expanding our current rainwater harvesting systems to supply our farm and garden.

What can you do?

We all have a role to play in addressing the climate crisis. Here are some other ways that you can help:

• Thinking local when buying cuts down on transport emissions.

• Everything has a carbon footprint! Reuse and repair items wherever you can.

• Support organisations that conduct environmentally responsible practices.

• Conserve resources by being mindful of how electricity, water, and other utilities are used in your home.

• Shop local at farmers markets such as the weekly Airfield market.